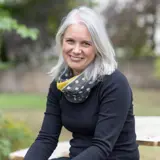 Morven Shearer
Graduate School for Interdisciplinary Studies / School of Medicine / Mackenzie Institute for Early Diagnosis / St Andrews
Morven Shearer is Director of the Graduate School for Interdisciplinary Studies (GSIS) at the University of St Andrews and Senior Lecturer in the School of Medicine. A lab-based pharmacologist initially, interested in nerve regeneration following spinal cord injury, she became increasingly interested in bioethics, law, policy and practice and moved into this inherently interdisciplinary field.  Responsible for the medical ethics curriculum for both medical programmes in St Andrews, she also explores questions of trust and fairness in healthcare (nationally and globally), and the challenges of contemporary research ethics.  Recently she's collaborated with the Mackenzie Institute for Early Diagnosis at St Andrews to explore the ethical, social and legal implications of early diagnosis.
The Graduate School for Interdisciplinary Studies is a vibrant collaborative postgraduate academic community, offering a range of postgraduate programmes and supporting interdisciplinary education and scholarship across the University.  
Morven is currently looking to collaborate on research projects and PhD co-supervision in any of the areas above.  As Director of the GSIS she would also like to work with others interested in interdisciplinary education, and would welcome ideas for how the GSIS can further support researchers involved in SHARE.