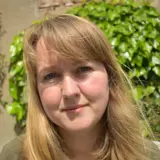 Victoria MacKenzie
Poet / Fiction Writer / Non Fiction Writer
I write novels, short fiction, poetry and essays, and my work is prompted by a wide range of topics including interactions between the human and non-human, as well as botany, zoology and physics. In 2019 I spent two months at Saari Manor in south-west Finland, beginning research on Vegetal Souls, a book of short fiction, essays and poems which explore contemporary botanical science and philosophy. An essay from this work, 'I Am a Plant', was shortlisted for the Anne Brown Essay Prize 2021, and a poem, 'Plant Animal Both' was shortlisted for the Charles Causley Poetry Prize 2020.
My PhD (St Andrews, 2013) explored the connections between contemporary poetry and science, including poems engaging with quantum physics, scientists who write poetry, and the use of metaphor in scientific writing.
My short stories and poems have been widely published in anthologies and magazines including New Writing Scotland, The Book of Iona and Magma. In 2016 I was awarded a Scottish Book Trust New Writer Award and in 2017 I won the Emerging Writer Award from Moniack Mhor. I have held many writing residencies including those at Cove Park Artist Centre, Hawthornden Castle and Varuna National Writers' House in Australia. In 2023, Bloomsbury will publish my first novel, For Thy Great Pain Have Mercy On My Little Pain, which explores the lives of medieval mystics Julian of Norwich and Margery Kempe.
Looking for: I am interested in any projects that involve a component of creative writing, including research projects, publications and workshops.           
Keywords: non-human, animals, plants, botany, fiction, poetry, posthuman, ecology, extinction, climate change, environment.